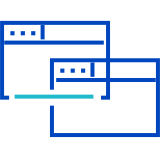 This category has documentation for Sumo Logic apps, webhooks, and other integrations, located in our App Catalog,
During installation, apps are customized with your source configurations and populated in the folder of your choice. You'll then start getting insights from your data sources via Dashboards and example searches for common use cases.
Several of the guides below are partner-specific: Amazon/AWS, Microsoft/Azure, and Google. The rest of the app content is organized by functionality. We support a wide variety of data sources.
Learn the difference between Next-Gen Apps and Classic Apps.
To determine if an app is supported by your pricing plan, see Apps and Sumo Logic Account Plans.
Watch this tutorial to learn how to use the App Catalog.